I've already spent a lot of time talking about how Gorilla Mind products have helped me sleep better, achieve greater focus, and keep up the intensity of my workout regimen. It's clearly no secret that I'm a fan of their product line due to the tangible results I've gotten.
But what I'm probably most excited to review is Gorilla Mind's latest stimulant-free pre-workout, better known as Gorilla Mode Nitric. This pre-workout has now replaced all other pre-workouts, thanks to its heavy-hitting formula for giving me a competitive edge in the gym without the downsides of experiencing a caffeine crash.
What to expect from Gorilla Mode Nitric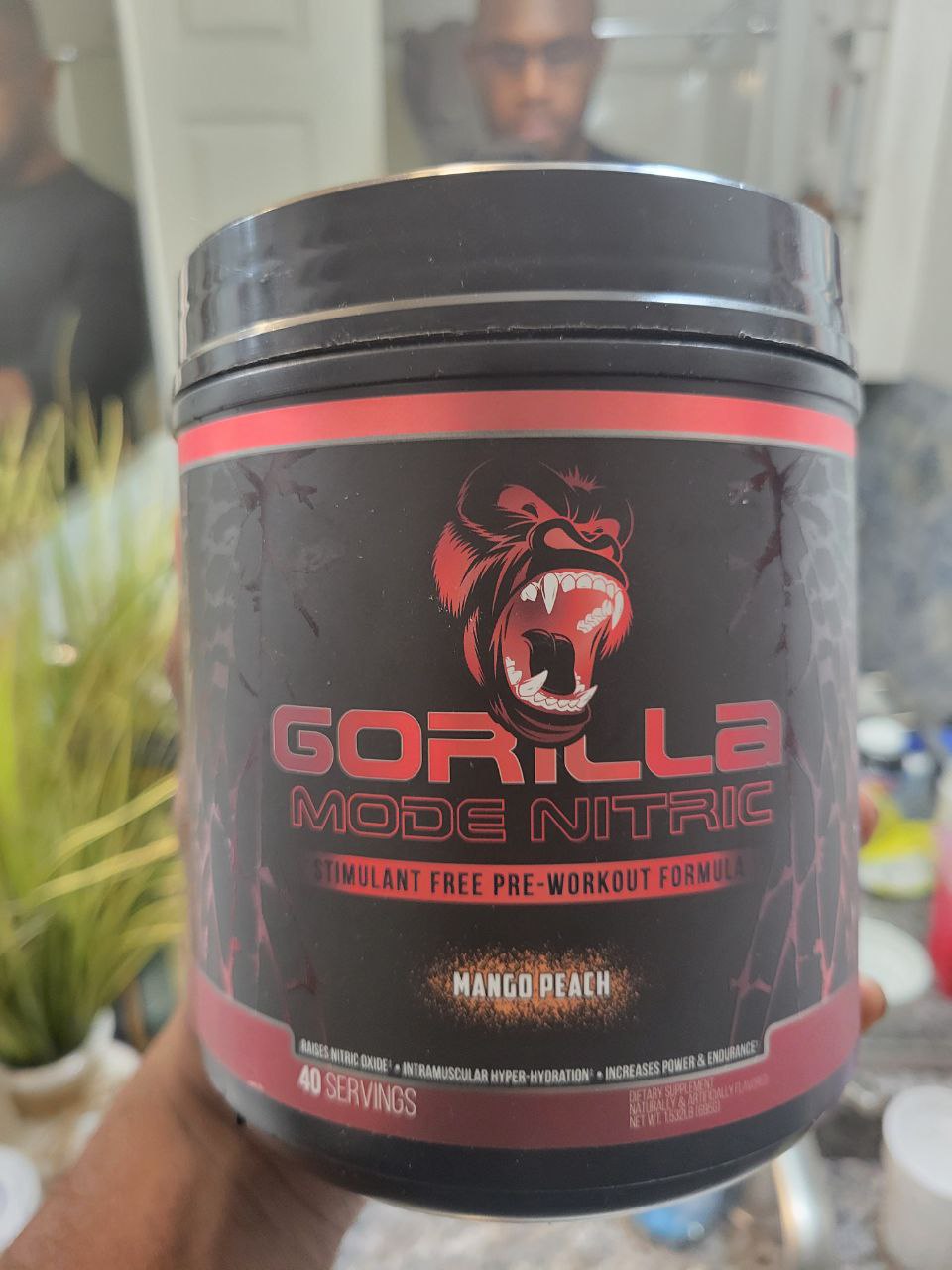 I mix 1-2 scoops of Gorilla Mode Nitric with 12-14 ounces of water or in my protein shake an hour before hitting the gym. If you're new to pre-workout supplements, I recommend starting with just one scoop and slowly building up the dosage.
Here's what I notice after taking it, although your experience may vary:
Within 15 minutes: I start to feel my blood vessels dilate as my muscles begin to swell with blood.
Within 30 minutes: My muscles are fully pumped, and I'm mentally kicked into gear to hit the weights or speed bag. The product has fully kicked in by this point.
Within 90 minutes: I'm at the peak of my workout and still extremely zeroed in and focused. The added focus motivates me to have an intense training session to burn up a lot of the energy. The product makes me feel like I could hit the gym for hours.
Gorilla Mode vs. Gorilla Mode Nitric
Gorilla Mode and Gorilla Mode Nitric are the best-selling supplements from the Gorilla Mind brand due to their maxed-out pre-workout formulas. But what sets the products apart is that Gorilla Mode Nitric is stim-free (no caffeine added), but more than makes up for it by having an even more potent formula than Gorilla Mode for boosting muscle pump and performance.
Because Gorilla Mode Nitric has a more potent formula, it also carries a higher price at $59 per container compared to Gorilla Mode's $49 price tag. But when you factor in the additional ingredients in Gorilla Mode Nitric and the higher dosage, you'll see why the extra $10 is justified.
Both products work as advertised, so it's really a matter of knowing what your goals are and how much you're willing to spend. If you're still unsure what product makes the most sense for you, keep reading my review and also check out my Gorilla Mode pre-workout review.
Benefits
Gorilla Mode Nitric offers many of the same benefits as Gorilla Mode but without any of the negative side effects that can be caused by caffeine. If you're looking for a stim-free solution without any compromise, there are a host of benefits that Gorilla Mode Nitric offers.
Increased muscle strength and endurance
Gorilla Mode Nitric does an excellent job boosting nitric oxide production, intramuscular hydration, energy, focus, and muscle strength and endurance that you'll be hard pressed to find in any off-the-shelf pre-workout.
The high dose of L-Citrulline, GlycerPump, Agmatine, Creatine, and Betaine saturate your muscles with blood to maximize your pump and performance while balancing your energy levels and focus to complete those long, grueling workouts.
I feel like my capacity for training increases significantly after taking it. Getting more reps in or running that extra mile while maintaining the same focused headspace is a definite benefit. Side note, learn how I train for boxing here.
Better pump
This is where Gorilla Mode Nitric really delivers. Over a gram of nitrates has been packed into this product to ensure that the nitric oxide(NO) pathway is well taken care of so you can achieve maximum pump. Having your muscles swell during intense workouts not only boosts your confidence, but blood vessel dilation(vasodilation) also helps lower your blood pressure while increasing oxygen in the blood to boost endurance.
You can purchase Gorilla Mode Nitric here.
Drawbacks
I honestly had a hard time thinking of any drawbacks from taking Gorilla Mode Nitric. You could argue that the price is a bit high, but once you factor in the active ingredients listed and compare it to other brands, you'll understand why. With that said, here's the one drawback I discovered.
Not the best tasting
While I haven't had any poor experiences with some of the flavors tasting off, I've heard a few complaints that some flavors aren't that good and can taste chalky due to the product not entirely dissolving in water. Poor taste is obviously not something you want in a product, but I find that Gorilla Mode Nitric is pretty on par with other popular supplement brands. I recommend giving your favorite flavor a try and finding out for yourself.
Gorilla Mode Nitric ingredients
As I've stated before, I'm a big fan of the Gorilla Mind product line due to Derek's transparency about what goes into the products and how each ingredient plays an important role in the overall formula. And since I'm strict about what I put in my body, I'm only going to take something that I recognize and know is healthy for me.
With that said, here's the list of the pre-workout ingredients found in Gorilla Mode Nitric: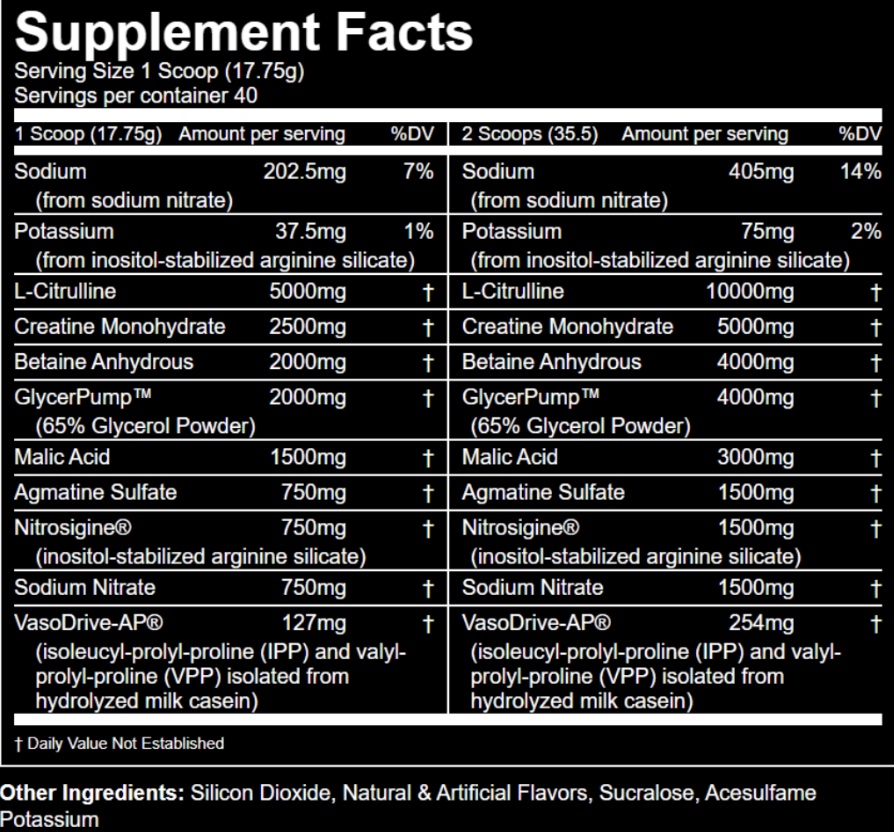 I've also included a short explanation of what each ingredient does—though I encourage you to do your research. Examine is a trusted resource for learning more about each ingredient.
Potassium: An essential mineral and electrolyte commonly found in fruits, vegetables, and beans that helps regulate blood pressure, protein synthesis, glycogen levels, and muscle contraction.
L-Citrulline: An amino acid that can help reduce fatigue, increase power output, and improve endurance in aerobic and anaerobic exercise.
Creatine Monohydrate: An organic compound commonly found in meat and fish. When combined with resistance training, research has shown that it can improve strength, power output, and lean mass.
Betaine Anhydrous: Also known as trimethylglycine (TMG), this naturally occurring compound can potentially enhance strength-based performance and hypertrophy by increasing blood flow and reducing fatigue.
GlycerPump™: A unique formula consisting of 65% Glycerol powder that hyper-hydrates your muscles to increase muscle pump.
Malic Acid: An alpha hydroxy acid commonly found in fruit that can counter lactic acid buildup during workouts to enhance athletic performance.
Agmatine Sulfate: A neurotransmitter and neuromodulator with antianxiety and antidepressant-like effects to help elevate mood. It can also manipulate the body's pain receptors, allowing you to power through more intense workouts.
Nitrosigine®: An inositol-stabilized arginine silicate that causes flow-mediated dilation to increase muscle pump. It has also been shown to be a much more effective vasodilator per serving than other common formulas at increasing NO levels.
Sodium Nitrate: A salt commonly used to preserve foods, pharmaceuticals, and dietary supplements.
VasoDrive-AP®: Also known as AmealPeptide®, VasoDrive-AP is used to improve arterial flexibility by increasing the production of endothelial nitric oxide synthase (eNOS). VasoDrive-AP is a naturally occurring blood-pressure support ingredient derived from milk protein through a proprietary enzymatic process.
Frequently asked questions
Is Gorilla Mode Nitric safe?
Gorilla Mode Nitric is perfectly safe, but you shouldn't exceed more than two scoops per 24-hour period. Even if you take more than the recommended dosage, there's likely no health risk except that you would be wasting money by using more product than necessary. If you're a first-time user, I recommend starting with just one scoop since your body will have a lower tolerance, and you'll likely get the full effects with the lower dose.
Can I stack it with other supplements?
Since Gorilla Mode Nitric is a stim-free product, you can easily stack it with other pre-workout supplements. On days when I don't want such a head rush, I'll mix Gorilla Mode Nitric with Gorilla Mode to achieve a milder stimulant effect while still maxing out my muscle pump and endurance.
I find my sweet spot to be one scoop of Gorilla Mode mixed with one scoop of Gorilla Mode Nitric, but mix and match at your discretion based on how well you tolerate stimulants. It's also important to understand your fitness goals and what you hope to get from your pre-workout.
Should I ever cycle off Gorilla Mode Nitric?
Despite Gorilla Mode Nitric being stim-free, I still advise cycling off it every 5-7 days to remain sensitive to the product. I naturally cycle its usage since I only take it during intense workout sessions a few times per week, which you could do the same.
How does Gorilla Mode Nitric taste?
Gorilla Mode Nitric comes in a variety of flavors, including popular options such as Fruit Punch, Lemon Lime, Cherry Blackout, Tiger's Blood, Mango Peach, and Bombsicle.
I find most flavors to taste pretty good for a pre-workout supplement, especially the original Tiger's Blood flavor, which is a blend of watermelon, strawberry, and coconut. If you find the flavors strong, you can always dilute them by mixing your dose with more water.
Final thoughts
With Gorilla Mode Nitric, you can expect a massive increase in NO levels, vasodilation, intracellular hydration, and significant muscular strength and endurance boost. This product takes no shortcuts with the ingredients packed inside, and why it's well worth the hype.
If you're looking for a maxed-out pre-workout that will give you all of the benefits without the jitters, look no further than Gorilla Mode Nitric. Also, if you found my review helpful, I'd love for you to use my link (I get a small % cut of each sale made through the link, which helps pay my bills).